Cessna (172) N12632 June 2002 Trip
---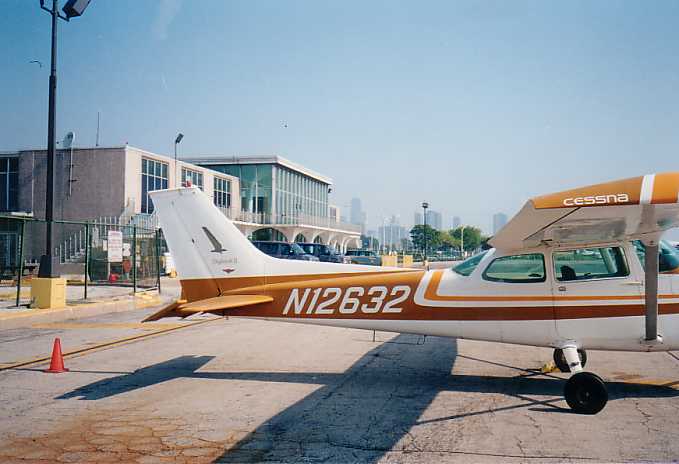 Approached the airport descending by Chicago Navy Pier, (what a view of downtown and the Lake Shore), landed south on Runway 18. Meig's was the closest airport to Chicago's downtown. I am so glad I made it here before Chicago's Mayor Daley committed that breech of public trust, egregious clandestine criminal act of destroying the public's infrastructure property, during the early midnight hours of March 30 and 31, 2003. This picture taken just after landing. In the haze you can see the Hancock Building just right of the terminal building.
---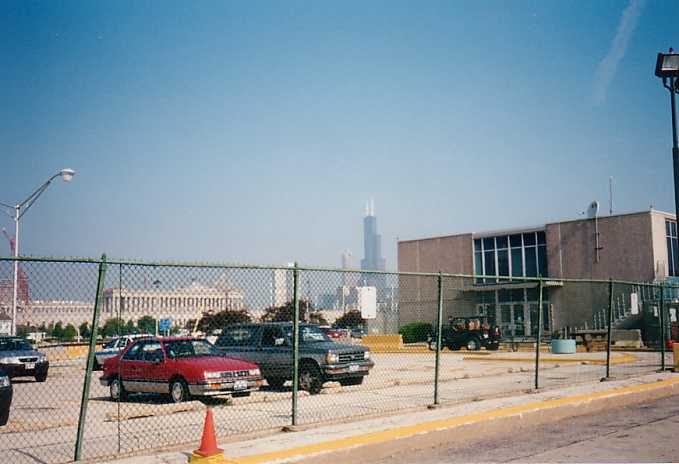 Just left of the terminal building you can see the Sears Tower.
---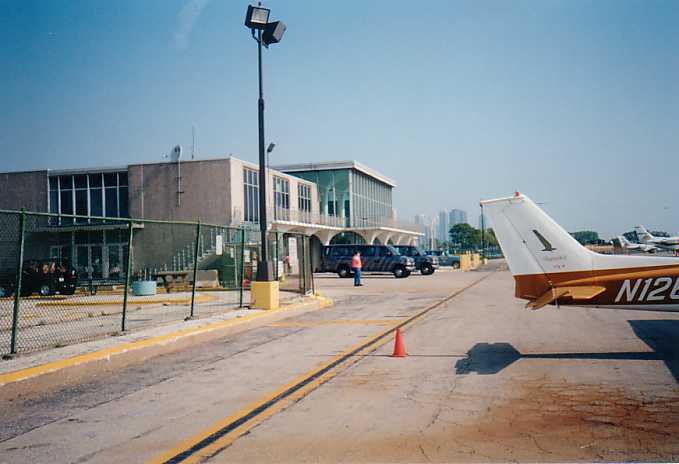 Due to the security concerns they escorted me, "to and from" the parking ramp and the terminal building. The $12 landing fee, $8 security fee and $3.25 per gallon fuel price was sort of expensive, but worth it to me, since I had always wanted to fly into Meigs. Now I have finally done it. Next, I took off south towards Warsaw, Indiana, the course of which is over Lake Michigan. I was handed off over to Gary, Indiana Approach Control for advisories, until over land, southeast of Gary.
---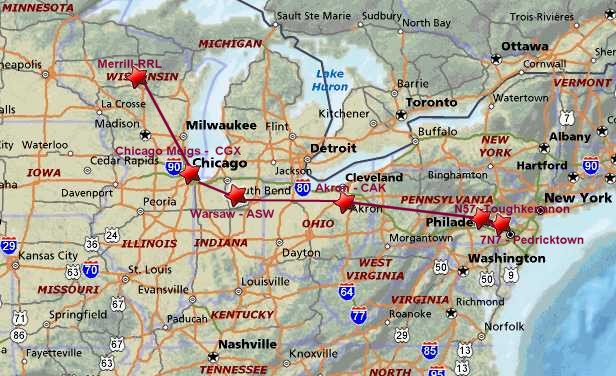 Map of flight en-route stops; (Merrill, WI- RRL) to (Chicago Meigs - CGX) to (Warsaw, Indiana - ASW) to (Akron-Canton - CAK) to (Toughkenamon, PA - N57) to Pedricktown, NJ - N57.
---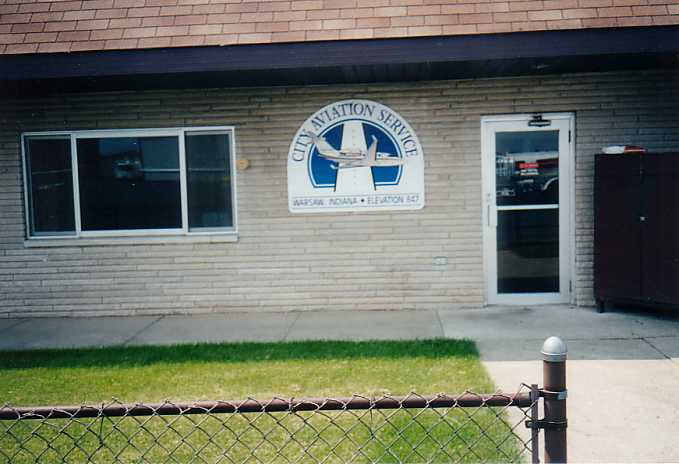 Picture of the airport terminal building at (ASW) Warsaw, Indiana, after landing south on Runway 18. Fuel was only $1.79 per gallon. A very prompt fueling and turn around by the line boy. I was very impressed with the value and service there.
---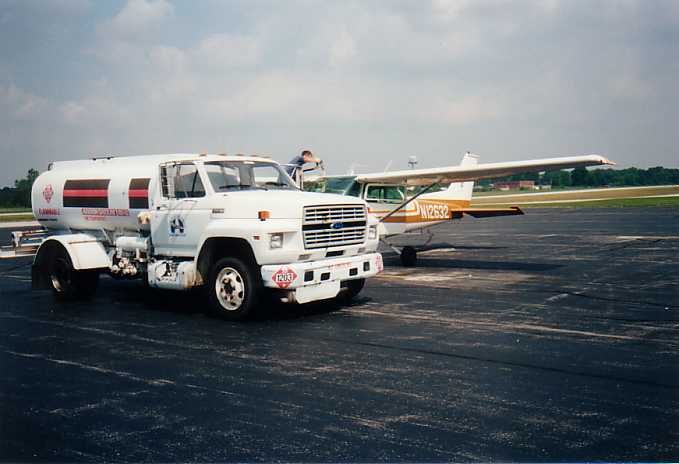 At Warsaw, Indiana the fuel truck was there the minute I stepped out of the plane.
---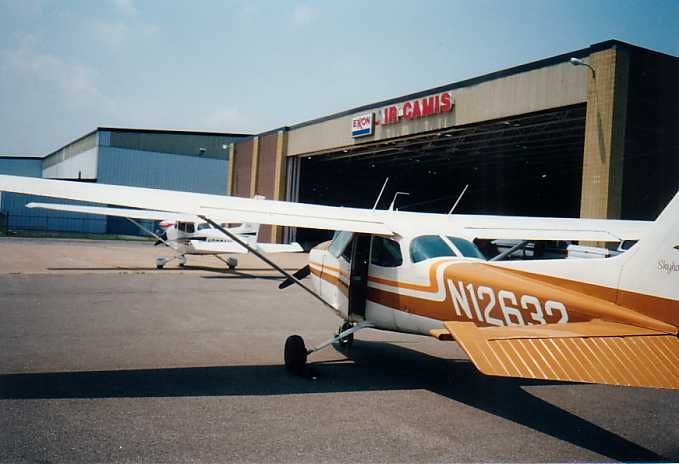 It was a time consuming endeavor landing at the Akron-Canton, OH Airport. Akron-Canton Approach Control radar vectored me way northeast of the airport, then back west, to sequence me in for a Runway 23 landing. After landing it was difficult to determine what buildings were the FBO that sold fuel.. I finally saw a fuel truck to get some fuel, but I had to wait since he had another fueling first. This was a very hot, humid, hazy day. I had time to re-hydrate, so I put down a couple sodas while waiting.
---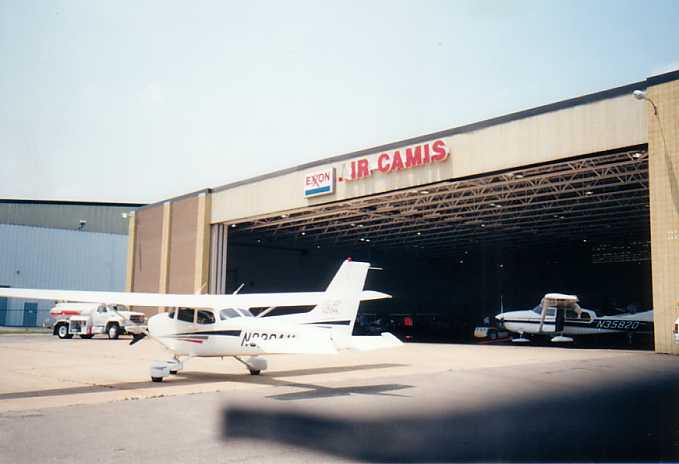 Camis Hanger at Akron-Canton Airport.
---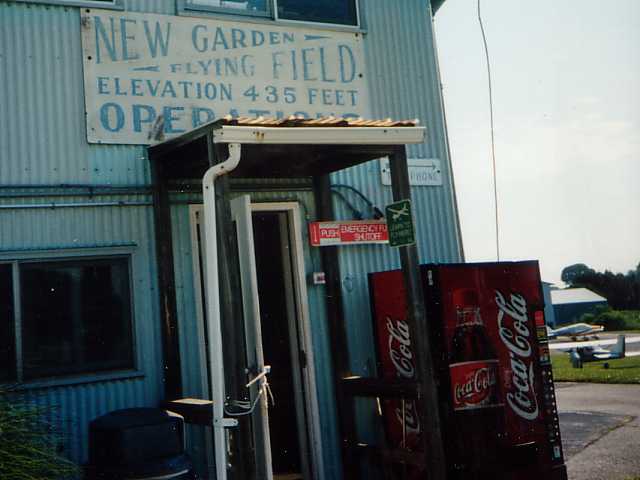 Visibility got better, less haze past the mountains of Altoona, PA. After landing on Runway 24 at New Garden Airport (N57), Toughkenamon, PA, I used my cellphone and called Diane for a ride. She was across the Delaware River in Penns Grove, NJ already. I informed her I would fly into Pedricktown and call her when I arrived there.
---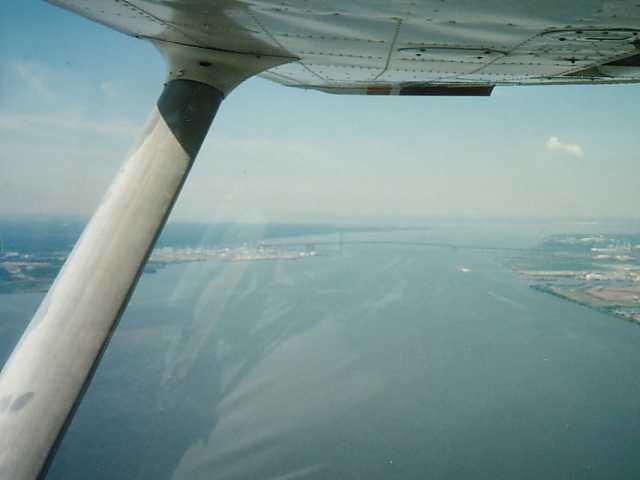 Over the middle of the Delaware River looking right or south at the I-295 Delaware Memorial Bridge.
---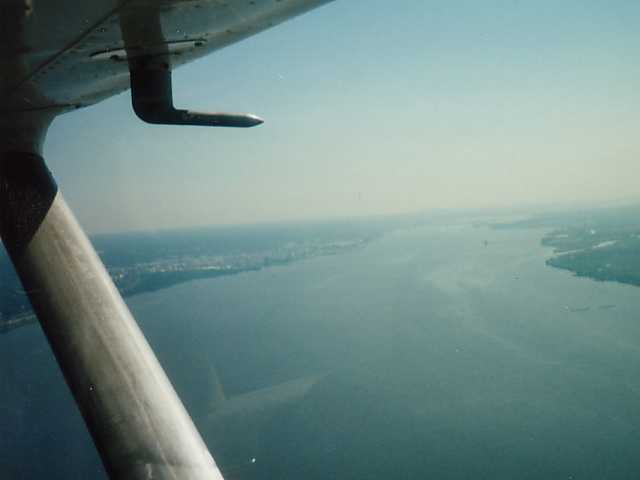 Over the middle of the Delaware River looking left or north towards the US 322 Commodore Barry Bridge.
---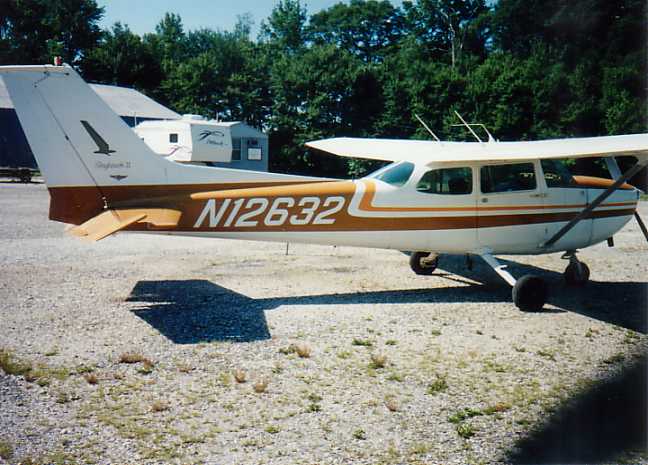 Landed on Runway 25 at Pedricktown, NJ. Pushing the plane to a grass tie down spot on an extremely hot and humid day was quite the perspiring event for a fat and out of shape guy like me. I was drenched. I called my Uncle Vinnie, he and Cousin Dean arrived shortly to pick me up in time for one of my Aunt Char's fantastic suppers. After supper, I rode with my gracious hosts Diane and Lon back to their house near West Chester, PA. The next day I called Spitfire Aviation to have the plane fueled before I arrived. Diane gave me a ride back here, so I could pick-up the plane. I paid for the fuel with my credit card and forgot to ask for my credit card back. I didn't discover this fact until 5 days later. I flew the plane back across Delaware River, in the haze to New Garden Airport, which was near Diane's house. This day was very hazy, I really appreciated the GPS technology while operating so close to the Philadelphia and Wilmington airports in these conditions. Diane and Brittany picked me up at New Garden. This is actually a picture of the plane parked in front Spitfire Aviation at Pedricktown, NJ (7N7), taken 7 days later, when I had returned back to get my credit card before returning home, via Fredrick, MD.
---
Back To Cessna 1 Back To Cessna Itinerary Menu Next To Cessna 2